Everyone seems to be launching their own clone, or rival, to Groupon's system. Living Social has been around just as long, but is secondary to Groupon in adoption and use. The latest, and the biggest threat, is Facebook.
Facebook plans to launch it's deals clone Tuesday in five major cities: San Diego, San Francisco, Atlanta, Dallas and Austin, Texas. What makes it a threat to Groupon and LivingSocial is its built in immense social reach.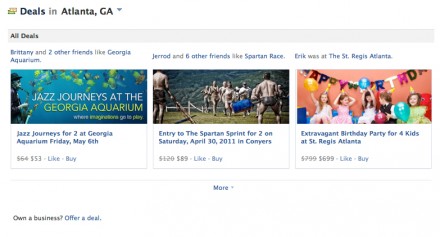 Groupon and Living Social use email as their primary method of marketing and promoting deals. It works. However, the social aspect of either is minimal. It exists, but it's not it's major feature.
Facebook has billions of people using it daily. They're already checking in with the feature that rivals Foursquare. They interact and are super users. Now, they'll be able to get deals ala Groupon/Living Social from the app the already know and love. That's a biggie!
Starting Tuesday, when Facebook users in the five test markets log into the site, they will see a deals insignia at the bottom of the page.

Clicking on it brings up a list of currently available offers. A user can buy one, click the "like" button to recommend it to others or share the offer with friends through Facebook's private messaging system. When users purchase or "like" a deal, it shows up in their friends' news feed.

That means "the discovery of the product can happen in lots of different places," White says.

To get the program started, Facebook has enlisted 11 companies that already supply deals elsewhere. Restaurant reservation service OpenTable will broadcast offers for local eateries, while online ticket seller Viagogo will market events.
Will you be using Facebook deals with your friends? Will you be using it for your restaurant?