If you haven't heard of AtomicDust you may have been living on another planet. This design agency has been turning out beautiful design work for restaurants and various other industries of expertise. Their most recent work was for Porano Pasta which took the design blog scene by storm with its truly unique look and aesthetic. I had the opportunity to sway Mike Spakowski, visonary behind AtomicDust, to play ball with an interview for GXG. Have a read and enjoy, there's a lot of great insights and goodies in his answers.
###
How did Atomicdust get started? What's the story?
Atomicdust started more than 15 years ago as a couple of friends experimenting with web design. Back then, the internet was new, and we were just happy seeing how far we could push things.
We were one of the few groups making things for the web in our region back then, and eventually we teamed up with another friend who was a freelance graphic designer. He had these things we had never heard of before called "clients."
So we started offering "traditional" designs for client websites. In some of our first client meetings, I would have to explain to a boardroom full of people what a "hot link" was, and the concept of "forward and back" in a browser. Often, a client's biggest concern on a project was how well their website would print.
As the web matured, so did we, and we've slowly turned our small studio from a three-person web design and development shop to a 19-person branding and marketing agency.
We've evolved our services and today offer a mix of brand consulting, design, development, content strategy, digital marketing, campaign strategy and photography.
The company has evolved, but the spirit of seeing how far we can push ideas is still there. I'm really lucky to work with the most talented and humble people you could imagine.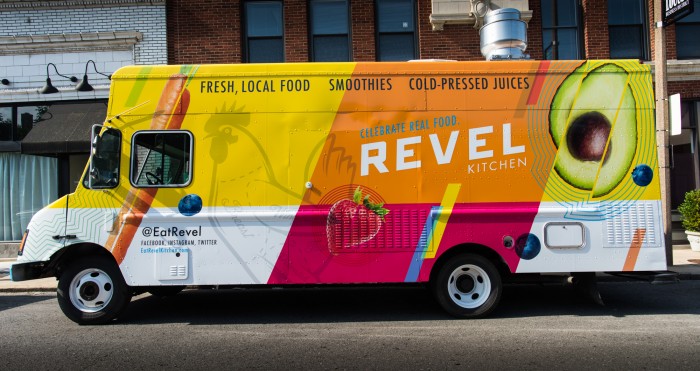 It seems you've found some key niches, but what's intriguing is how different from one another they are. Healthcare, F&B, non-profit… how did you find yourselves as experts in these fields?
I was thinking about this the other day, actually. My theory is that when designers get started, they tend to attract clients that are physically close to them. In St. Louis, there's a lot of healthcare, agriculture, and liquor. A lot of our early clients were healthcare, and they hired us not for our healthcare expertise, but our technical web expertise.
Over time, our understanding of the healthcare industry grew and we gained a bigger perspective on the challenges the industry faced. Soon we weren't just executing pre-determined solutions; we were finding inventive solutions to those challenges. We also began to bring on talent with industry expertise that complemented our own.
While we've had a lot of success in healthcare, we're always open to exciting new projects in other industries, especially when they give us the chance to work with innovative, creative clients. A lot of the restaurant work we've done has been with these kinds of people, and it's  pushed us to do some of our best work.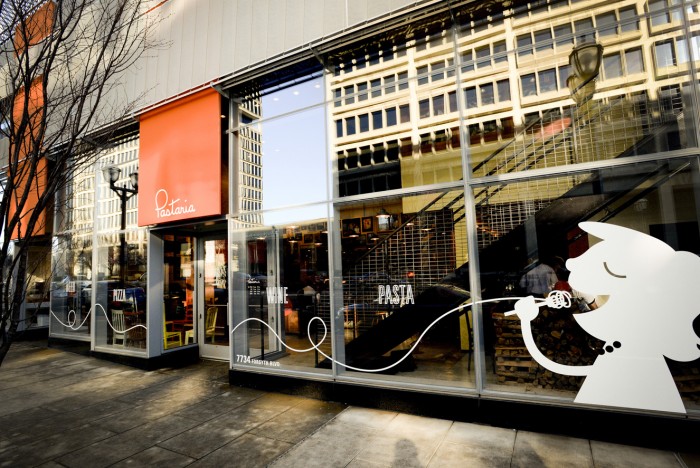 I wouldn't consider us purely a healthcare, or restaurant, or nonprofit branding firm, though. We can do all of that work, and do it well, and it's very rewarding, but we're more interested in projects with interesting problems that we're going to have fun solving. 
Would you suggest up-and-coming talent find a niche, or stay generalized?
For up-and-coming talent, I would recommend starting generalized. I think it takes a while for designers to find something that they're great at and passion about. You have to create a volume of work to see what's working for you and what's not. It can be tough to focus on just one niche when you're getting started.
As you grow, finding a niche makes sense, and it can be a solid business decision for a designer or a firm. Being known for a type of work, or for solving a particular type of problem will help you build your reputation. Once you have a strong reputation, business is easier to win, you can charge higher fees, and clients will have fewer objections to your ideas.
Experienced designers that focus on niches tend to do it more as a business decision, and less as a way to personally fulfill their needs as a designer (as is often the case with new designers).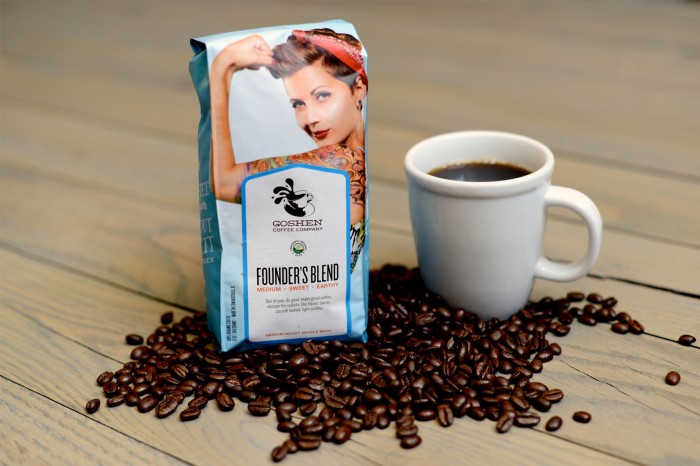 What's your favorite part of designing restaurant brands?
My favorite part of designing for a restaurant is taking my kids there when it opens. It's crazy for me to see them in the space. They are my harshest critics.
I also like to see strangers' reactions to the the work. I like people watching. Did they understand the menu? Is wayfinding clear and easy? Did they discover the inside joke? Did it make anyone smile?
Restaurants are public. It's a rush for a designer to see a large volume of people interact with their work live, and in three dimensions.
What was the most challenging part of Porano and/or Revel Kitchen?
The restaurants we've worked with tend to be higher profile, and are usually surrounded by press before they've even opened. We feel a lot of pressure to make something that lives up to the hype. The most challenging part for me personally is always wondering if the work is good, or if I'm crazy.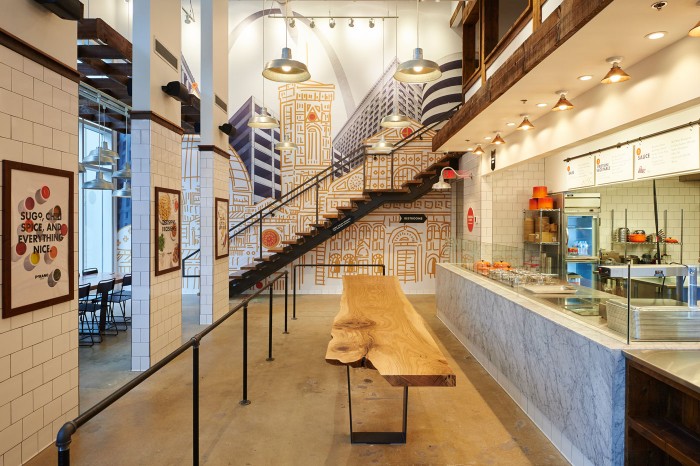 With Revel Kitchen we had the difficult task of renaming the restaurant to be more appealing to a broader audience. (The original name was Athlete Eats). The restaurant was already popular, and had a lot of great press around it, so changing the name was a challenge. It wasn't just the difficult process of coming up with a new name, it was making sure that the change would be right in the long-term as our client grew their brand. The day we decided to change the name, the New York Times did a big writeup on the restaurant using its old name. We pushed forward anyway.
Porano Pasta, our latest restaurant identity, had an unprecedented amount of press around it before it ever opened.
It's owned by Gerard Craft, recent winner of a James Beard Award, and it's a breakout concept in the fast-casual category. Gerard is a super nice guy, and a new concept like Porano was a risk for him and his team. We felt like we were sharing that risk. We took that responsibility really seriously, and pushed to make the best work we could.
The Porano Pasta identity is pretty high-concept. We mixed art-deco type and midcentury-style illustrations of Italy with current photos of St. Louis architecture and a lot of patterns. During the design process, before I could see all the pieces come together, I wondered if where we were going with the project was the right direction.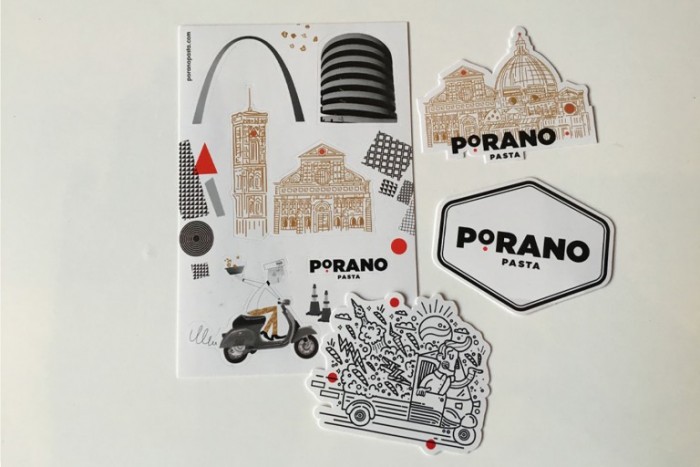 When I'm close to a project, I never want to lose my objectivity of what's right for the brand vs. my own opinion. I never want to force my thinking on a restaurant concept. But I also don't want the work to be boring – so we take risks. Good design work is usually full of this kind of tension, and throughout most projects, so is my head.
Do you prefer branding or marketing restaurants? Why is that?
I prefer branding restaurants over marketing them. With branding you have more control. A lot of restaurant marketing is based on sales promotions and events. It's more of an outbound push than setting the tone for the experience.
Also, marketing a restaurant that doesn't have a well-defined brand is a challenge. You'll find that you might not have that much to talk about.
Any other advice you'd like to share with new talent and those looking to break into the restaurant design world?
My advice to designers: don't wait to get started. Make stuff you wish existed. It's your job to push for great work. No one is going to do it for you.
###
There you have it. Mike sheds some light and offers some stellar advice for those getting started in the industry and those who want to niche further in a specific vertical.
If you like this piece please share it on your social places and tell all your friends and coworkers. There's more to come!