Product and service line extension happens in brands of all ages from new to old. Extending offerings of a company isn't a bad thing, if it's done with branding as a core focus.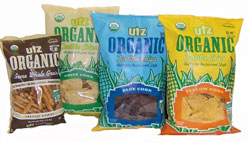 Companies like Proctor & Gamble and Unilever are the leaders of line extension. P&G usually gets it right when it comes to branding new products properly, but they too fall into some typical traps. One such trap is leveraging a current brand name to quickly build trust in a new product that exists in the same vertical, but has different pros to tout.
Brand leveraging is a trap because it dimishes the existing brand. More market share isn't attained. Instead the market share already held by the existing brand is stolen by the new brand. Obviously, this is not the purpose by any means.
Utz potato chips is a home-grown brand who has recently launched new products to compete in the "natural" and "organic" market place. The new name is "Utz Organic" and "Utz Natural." Extending their snack offering to hit this new market is a great idea. Doing it under the Utz brand name isn't.
Utz has effectively leveraged their current market for snacks to build instant name recoginition. Unfortunately no new people are paying attention. Instead the company has divided their fans into those who care about healthier eating and those who don't. The result is the added expense of manufacturing different product, printing different packaging, and marketing/advertising more. All without the benefit of gaining new customers.
What they should have done is taken their cues from successful companies as mentioned above. Instead of "Utz Natural" the company should have spent money on developing a completley different brand name, identity and marketing. One that wouldn't blatantly expose the unhealthy, fattening nature of their other products.