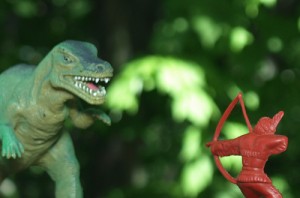 It's no news that there are thousands of advertising agencies, design studios, branding firms and so on. If you're in any kind of business you've probably run into a few along the way. Some more impressive than others, but all sounding on their block as loud as they can to sell their bigger and better idea or methodology.
All marketers are liars
Well maybe not all of them are, but a marketers job is to woo and impress. I've known a number of agencies who played by the "fake it until you make it" model. They'd sell services they barely had a grasp on, then try to scramble to find a way to fulfill the promise.  That's a recipe for disaster.
Think about it, would you want a doctor to prescribe a remedy that he himself wouldn't take?
Personally, when looking for any kind of vendor, I tend to go with the places that practice what they preach. I want the people I'm working with to not only know what to do, but also do it for themselves. This is especially true in marketing.
If a media is so powerful and wonderful, why doesn't your agency use it?
I've heard them feed the lines, "well, we get most of our work from referrals" and "that type of marketing doesn't work for us." I call shenanigans especially when working with the B2B realm. Although some agencies don't act like it, advertising, marketing, branding, etc is a professional service. Therefore, the same tactics that work for B2B businesses should, in turn, work for an agency. So, why aren't they partaking in all that media they're trying to sell to you?
So, how can you spot an agency that isn't really worth a second look?
Here are five ways to see that dinosaur agency coming a mile away so you can save time and money.
Hasn't updated their blog or social media pages in months
Most agencies have been promoting new media as their new trick. What's funny is a lot of these agencies have gone as far as to set up their "new media" tools, but haven't updated them in months or, worse yet, over a year! There is no such thing as "too busy" to market your own company.
Pushes you toward a strategy they themselves don't partake in
They'll sell the billboard but wouldn't dare buy one themselves. Oh that radio is the best idea, just not for them. You need a dynamic site, but they don't have one. You need content, but not them. Go with a place that practices what they preach.
Talk a big game, then drop the ball
Everyone can talk the talk, not may really walk the walk. I've seen a lot of agencies put on their dog and pony show. They've whet the palates and walked away with a win. Then, it takes 8 weeks to get a formal proposal during which time they are incommunicado. No thanks. We live and work in a 'Here and now, i wanted it five minutes ago' world. A real new media agency doesn't just recognize this fact, they eat, sleep and breath it. Period. Talk is cheap.
Those are just three common traits we've seen in agencies struggling to stay relevant. Keep a sharp eye out for them. Don't choose an agency based solely on a past relationship. Do the homework and go with a company that has longevity, practices what they preach, and walks the walk. Do it with Vigor.