Another burger joint. How can you get sick of these? There's so much room for fun and unique brand elements. LT Burger was designed by Mark Brooks Graphik Design in Barcelona, Spain. LT operates in Sag Harbor, New York. Out there in Long Island.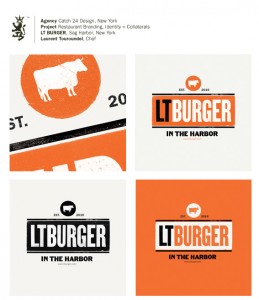 I like the direction Mark took with this one. There are a number of elements happening in the identity that sets LT apart from other burger joints. The vibe is rather clean, sterile in a way, but in a good way. Like they get down to business.
The sterility is deteriorated a bit with a stressed effect. I'm not sure if that's the best move. It's one thing to have this happen because of a printing process like screen printing, but I'm not a fan of making it an effect. I think it works well without.