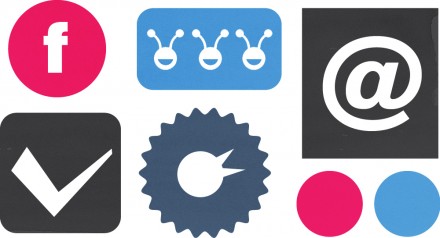 You've setup your Twitter. You're using Facebook. You have some rad specials on FourSquare. You're building your email marketing list and sending out messages. Great. Now people just have to remember to use them.
You're probably promoting your social media on your restaurant's website, but what about when people come to your location? Usually the ball is dropped during a crucial time like the customer visit.
The key to getting the follow, like, blab, check-in or review is to give them a good reason. This doesn't always mean discount incentives, although it usually does, but answer the questions, "Why would someone want to interact? What am I offering that's truly valuable to them?" Use the answers to those questions to design these elements, write the text content and deliver the marketing message so people actually act.
There are a number of ways to promote your social media interaction using traditional media throughout your location's experience. Here are 5 ways to leverage social media at your location:
1. Front Door Stickers. Some social media companies will send you stickers or offer a place for you to buy them. Some don't. Either way, use your front door as the first line of promotion for your social media offerings. Design a set of sticker or one large poster to put on your points of entry that promote your FourSquare, Twitter, Facebook, Email, and Blabberbug accounts. Give them brief reasons to follow, like, check-in, subscribe and blab.
2. Market on the Menu. Why not add these elements directly on your menus. I'm sure you can make space. Think of it the same way you do on your website, a few icons, maybe a little blurb about each. Foster interaction here to reinforce the offers and build customer engagement
3. Table Top Pop. Your tables and/or bar area is prime real estate for promoting interaction with your social media. Design hang tags, post cards, and other POP displays to give your patrons the information and reasoning they need to follow your social media actions.
4. Bathroom Break. In the bathroom, people have unadulterated alone time. Most fill it up with blank thoughts about how a date is going or what they'll get for dessert. Some check messages and text. Give them something to think about in your stalls and above the urinal tanks. Get them to follow your social interactions when they're truly attentive.
5. Take Out Leaflets. Finally, lace take out bags with fliers that promote your social touch points. Give them incentive to follow and reinforce the brand throughout the design. Better yet, why not design the promotions for your restaurant's social media directly on the bag?!