It's been a really fun ride putting together this handy dandy, super informative book. Now, after about 6 months of development it's finally available for purchase. Currently available through LuLu.com, but will soon be available through Amazon and other online retailers.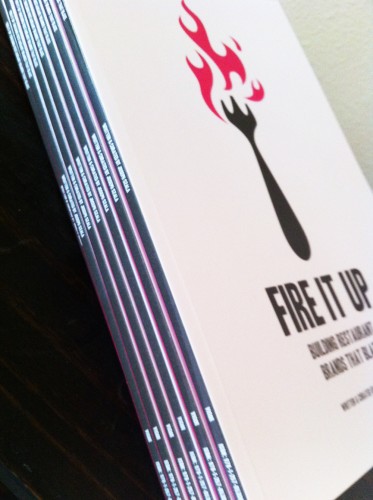 FIRE IT UP: Building Restaurant Brands That Blaze is a culmination of 7 years in the branding and development of over 14 restaurant concepts. It's a down-to-the-nitty-gritty, in-your-face, and bare bones approach to describing the process, ins and outs and all around theories on developing restaurant brands that actually work. No fluff here.
The book was written primarily for the chef and restaurant owner who want to either start a new restaurant concept, or want to turn their failing concept around. Leveraging the knowledge I've built through my experiences along side the experiences of those with whom I've worked, this book is key for anyone who is serious about the industry.
The book contains checklists, cold hard facts, 11 indelible rules of restaurant branding, 12 case studies from around the nation, and so much more.
Please pick up your copy today at LuLu.com, and feel free to leave your reviews and comments accordingly.
Thank you so much to the people that helped make this possible through editing and down to general support and love.