In a part of their ongoing brand repositioning, Domino's unveiled its new logo and flagship store redesign. The goal? Make it all about the pizza experience. A spokesperson for Domino's explains:
The new store design aims to put pizza front and center with a "Pizza Theater" format that will have "pizza-making artists" hand tossing dough and creating custom-made pies in front of guests — a move that may better position the brand to compete against a growing number of build-your-own fast-casual pizza concepts.

The new logo, however, doesn't include any mention of pizza, just the simple red-white- and-blue, single-tile domino that company officials hope will become as recognizable as the Nike Swoosh or the Golden Arches.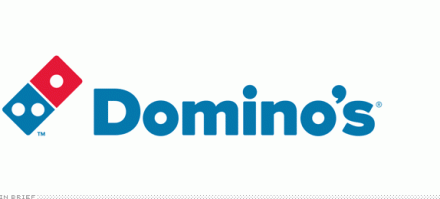 The design is simple and easily recognizable taking its cues from other successful brands. It's a testament to good design is good business, even in an industry where poor design runs rampant.
The interior design is strong, but not groundbreaking. New and different for a Domino's and it sets them apart from other competing brands like Pizza Hut and Papa John's. It's not a daring move forward, but a good move nonetheless.
What do you think of the identity and interiors?
Read the rest of the article at Nation's Restaurant News. Read more commentary from Brand New.