This is the second installment of a three-part series covering Amsterdam. Part One can be found here.
Earlier in the day, we had the humbling honor of experience the house in which Ms. Anne Frank wrote her famous diary. The weight of the morning and that experience was uplifted in the afternoon as we meandered through the renowned canals of Amsterdam watching beautiful canal houses slowly sweep by. Yes, a bit touristy, but a wonderfully relaxing experience. Before we knew it, the day had marched on and had concurrently stirred up quite an appetite. It suddenly dawned on us that we had not made any formal reservations or plans for dinner and a sense of urgency spiked.
Lucky for me, a friend of mine who lives in Amsterdam had sent through some food suggestions. One of the suggestions was Breda, a restaurant that just so happened to be not far from where our canal trip ended. I wasn't very confident that the restaurant would be able to accommodate a walk-in but was quickly shown the Amsterdam charm and grace when they happily sat us right away despite a heavy night of reservations.
And so, my wife and I had the distinct pleasure of experiencing Breda.
Breda / Executive Chef/Owner Guillaume de Beer / Chef Pépé Topper
Singel 210, 1016 AB / Amsterdam, Netherlands / +31 (0)20 622-5233
www.bredagroup-amsterdam.com/breda/
The Food
The Chef's 5-course menu started with a bold move: oysters in a brine with cucumber. Raw oysters aren't a favorite of mine, but I'm a firm believer that great chefs will make the things you dislike unbelievably delicious. This theory held true with a light, crisp finish offset by the salty-seafood beginning. From this point on, the remaining courses were quickly but expertly delivered, one-by-one. Each course exploring a seafood forward expression that melded local ingredients in refreshing and new ways. Each dish allowed the fish to shine with its nuanced flavors while supporting and offsetting said flavors with unexpected compliments. It created a wonderful journey from course to course.
The staff was professional and engaging, explaining each dish and its highlights. They even offered some suggestions on how to approach certain dishes that proved unorthodox. This touch made us feel comfortable and accommodated which made the cuisine shine even more.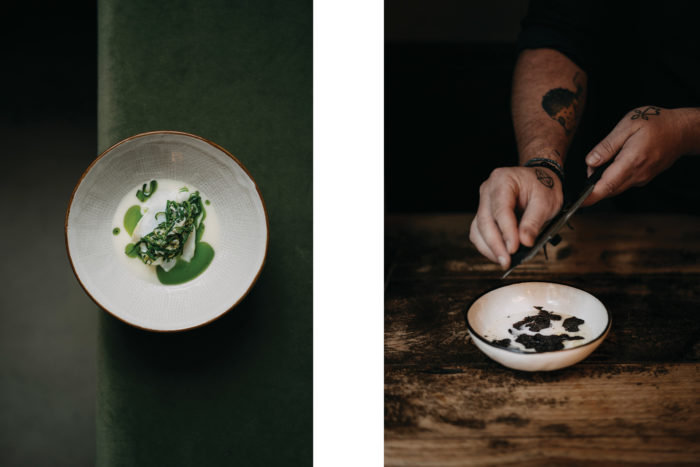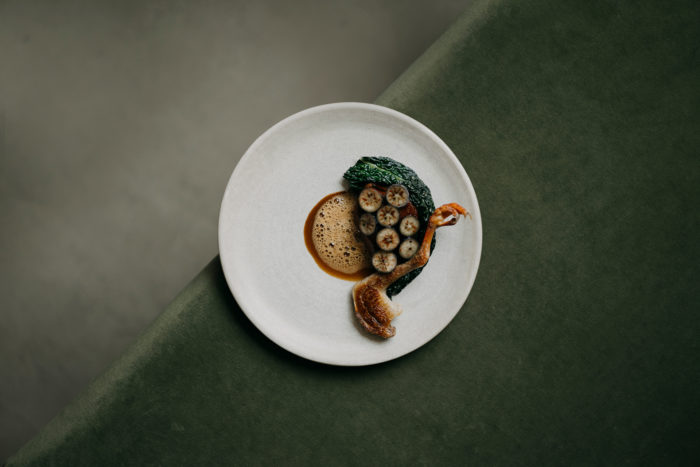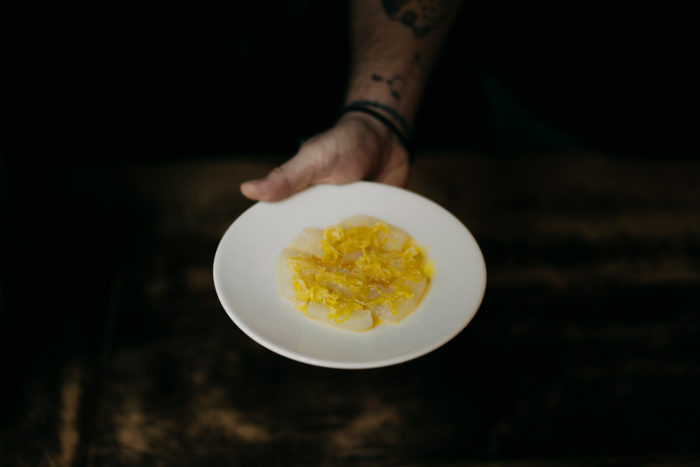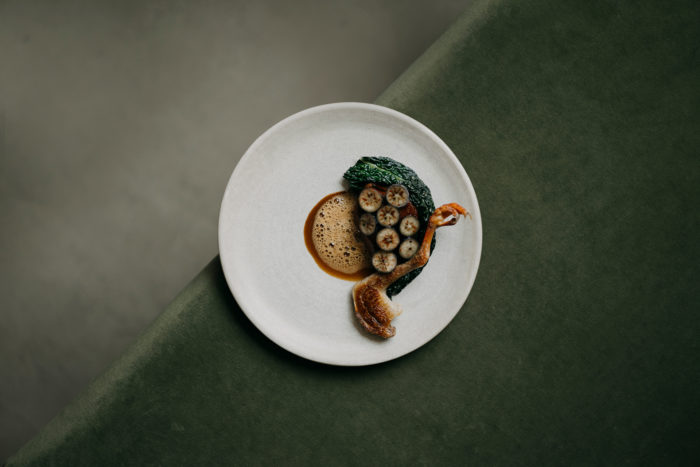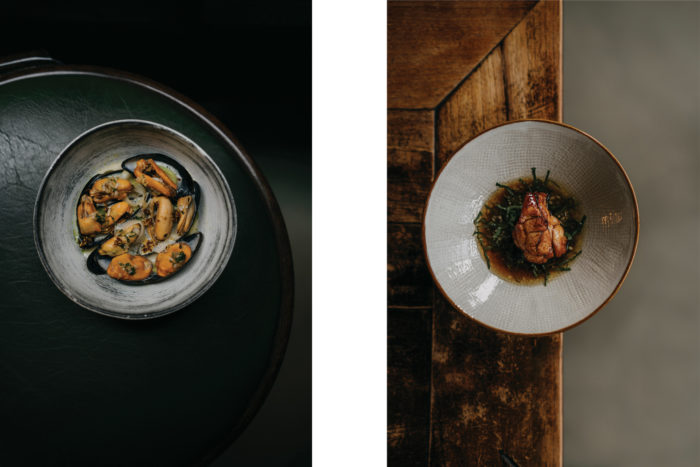 The Interiors
Breda's interiors showcase drastically high ceilings that dwarf the guest upon entry. Despite their grandiosity, Breda remains approachable and comforting. This is due to elements of the space that add warmth like lighting that's reserved, yet fine in its simplicity, and patinaed walls of a light ochre. The walls' patina is mirrored in the aged tabletops that somehow seem perfectly imperfect. White plates and understated wine glassware seem to thrive with this background.
The bar area commands the central focal point of the restaurant's space that's shaped in a shotgun-style format. Its dark contemporary base serves as a welcomed juxtaposition to the walls. Brass accouterments add that feeling of warmth and familiarity while maintaining a look of luxury an upscale reservation.
Final touches throughout the space finish the job of meshing comfort with luxury. One such touch is the sage-colored banquet in the back corner of the room with lush rolls that seem to invite you to curl up and relax.
Architect/Interior Designer / Erik Koijen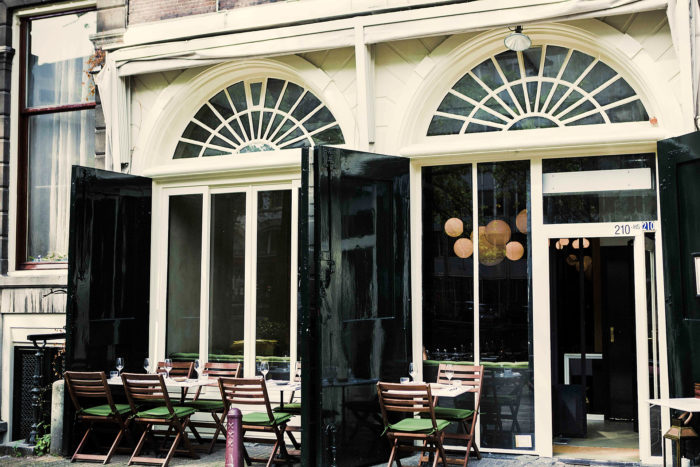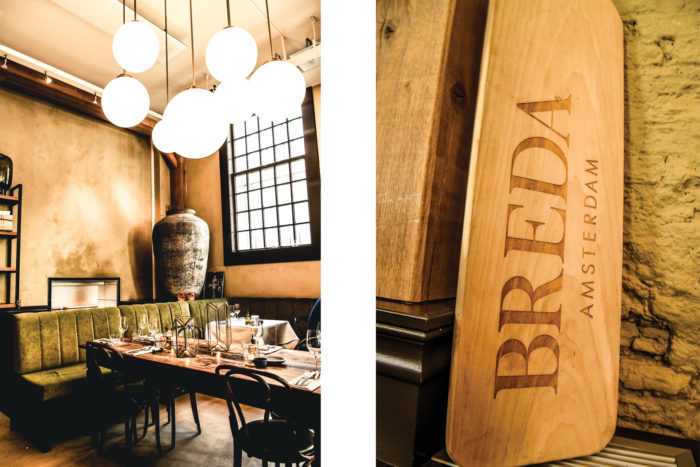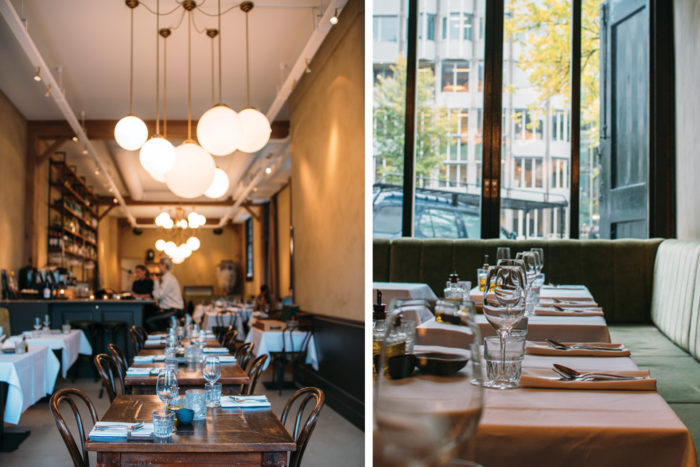 The Brand
Breda's brand identity continues the chicly aged contemporary vibe. Timeless serifed typography sets a confident tone for the restaurant's name, BREDA, in all caps. The type's baseline and topline are sharply straight creating a feeling of immovability and slight austerity. This is offset by the geometric typography that supports the brand and reads "Amsterdam" under the core brandtype.
BREDA's other touchpoints continue the same vibe and aesthetic that nod wonderfully to interior elements, plateware, and the dishes themselves. The menus are booklet style and wrapped with a light moss green fabric that correlates to a similar green found in the banquette feature towards the rear of the restaurant.
Identity / Natascha Heemskerk @ Breda Group's HQ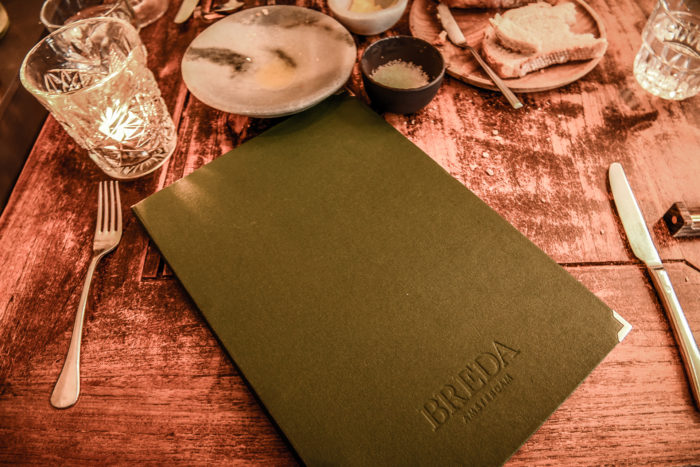 Notes
Breda prefers reservations. We were very lucky to be offered a table by the gracious staff. I presume the speed of the courses was affected by our early time and the need to seat the table for 8:30pm. We were not put off by this at all, but others should err on the side of making a reservation and experiencing Breda the way they prefer. I presume it would be even better than our already delightful experience.