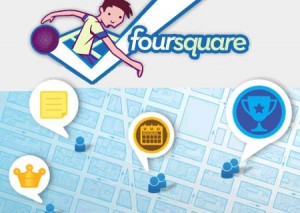 Social media has been an increasingly effective part in the marketing strategies of many big and local businesses. The main question when Foursquare came around with their innovative geolocation sharing network was; How do we use this to benefit our brand or business? But the Foursquare team has added a few cool features with their network, bringing the game focus to the site, while continuing to build on their own marketing and professional relationships. Today we have some unique ways in which Foursquare has become an effective business marketing tool for more.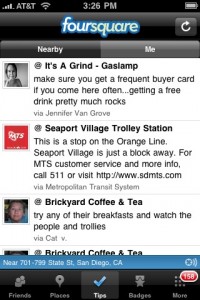 The tips function allows the user to view "tips" left by other users concerning specified businesses. For example: When you are checked-in to a place, you can shout out to friends something good or bad pertaining to that establishment. Once you shout , this is always shown to anyone under the Foursquare network within the range of the place you shouted about. So if you want to throw some good feedback out on the Foursquare network it is best to shout about your business from time to time, to tell consumers about different promotions. To view these "tips" the user will go to the Tip tab and view the "Nearby Tips" tab to see the shouts that have happened around the users present demographic.
Another great use for this tool is to use certain contests with the game aspect to promote different sales and discounts. This gets people to interact more with your brand and spread the news to others around them about your business. This week, for instance, Starbucks had announced to the public that it would begin to reward Foursquare users with a Mayor (Have the most check-ins to any specific place; can have numerous mayorships) status of any Starbucks' store to receive a personal discount every time they visit that specific store.
We will continue to see an ongoing expansion of Foursquare for the next year or so, given the recent mainstream exposure they've been gaining. The Today Show announced their recent partnership with Foursquare. This is great to spread the Foursquare trend wider throughout the world, transitioning itself as a mainstream social media tool.
By: Mark G. Valente | Online Marketing Strategy | @MarkwithMWL | Vigor Interactive Branding