In the midst of the minimum wage controversy and the ever-growing sense of entitlement in service staff comes a beacon of hope. Momentum Machines has developed a robot/machine that makes gourmet burgers from being to end thereby automating the process completely. Their vision is a "smart restaurant" that's completely turnkey where the workforce is significantly reduced.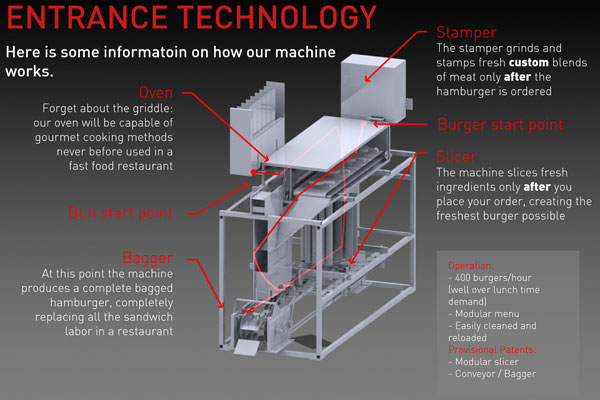 Does this signify the future of QSR and maybe even FSR? Possibly. Throughout history innovative has always been spurred by controversy and points of pain. See also: The manufacturing industry. In this instance the constant complaining by the workforce leading to synchronized walk-outs and protests, combined with new legislation are all threatening to demolish an already razor-thin bottomline. The only solution is finding a way to do things better, faster and cheaper. Cue the brains at Momentum:
Fast food doesn't have to have a negative connotation anymore. With our technology, a restaurant can offer gourmet quality burgers at fast food prices.

Our alpha machine frees up all of the hamburger line cooks in a restaurant.

It does everything employees can do except better:

it slices toppings like tomatoes and pickles immediately before it places the slice onto your burger, giving you the freshest burger possible.
our next revision will offer custom meat grinds for every single customer. Want a patty with 1/3 pork and 2/3 bison ground to order? No problem.
Also, our next revision will use gourmet cooking techniques never before used in a fast food restaurant, giving the patty the perfect char but keeping in all the juices.
it's more consistent, more sanitary, and can produce ~360 hamburgers per hour.

The labor savings allow a restaurant to spend approximately twice as much on high quality ingredients and the gourmet cooking techniques make the ingredients taste that much better.
To me this marks the beginning of a new era, or at least the potential beginning. It doesn't mean the hands-on restaurants will go away just as the internet hasn't killed the print industry. It will, however; make a dent and spark a change. The weak will fail and fade away and the ones who will jump at the opportunity will prevail. Survival of the fittest quicker than a New York minute. And there aren't any government bailouts in sight to stop the inevitable from happening.
What do you foresee happening with this type of innovation?