The Optimist, like the slew of other Ford Fry restaurants in Atlanta, is a local favorite. Full disclosure, I've been there twice, both times for my husband's birthday, and we've written about it before for Grits and Grids. This experience was definitely different, and I'd say better, than our first one. Our reservation had been made a few weeks in advance of his birthday in September through OpenTable, and I had made a note we were celebrating another revolution around the sun on the reservation form. Unfortunately, from the time I had made the reservation to the actual day arriving, I had managed to get sick. Feeling well enough to go out and unwilling to not do something to celebrate, we headed over through the quickly-changing and ever busy Westside of Atlanta to the Optimist.
The Optimist / Executive Chef/Owner Ford Fry
914 Howell Mill Road / Atlanta, GA 30318 / 404-477-6260
theoptimistrestaurant.com/
The Food
The Optimist brings a seaside fish camp experience to us landlocked Atlantans. They focus on trying to get their seafood as locally as possible, sourcing oysters from the Alabama coast and trout from the Georgia rivers. For our second visit there, we ordered simply, sticking to drinks, mains, and dessert. Our meal started with these housemade rolls that I could only describe as high-end Hawaiian roles, smothered in melted butter. My husband ordered a tequila-based cocktail, called The Yucatan, that arrived in a gorgeous cut-crystal rocks glass while I deliberated ordering a cocktail at all, due to being under the weather. He didn't like his first cocktail and ordered a second, a bourbon-forward drink called Hugo's Washout and I took the opportunity to ask meekly if they had anything without alcohol that I could enjoy.
Our waiter was, to my surprise, excited to tell me that they were in the process of developing a non-alcoholic drink menu. I have always felt a little funny about the sober-curious trend that seems to be growing within the restaurant industry, and the growth of non-alcoholic spirits and cocktails. But, in that moment when I know having alcohol would make me feel worse, I was eternally grateful for the honeysuckle, ginger and lemon concoction that was brought to me.
For our mains, my husband ordered their hearth-roasted grouper, served with cauliflower, meunière, and almond with a side of their aromatic basmati fried rice (pictured below). I had the mahi, served with plum and a ginger-miso dressing. Our fish came quickly from the kitchen, and perfectly roasted, crispy on the outside and tender and flaky.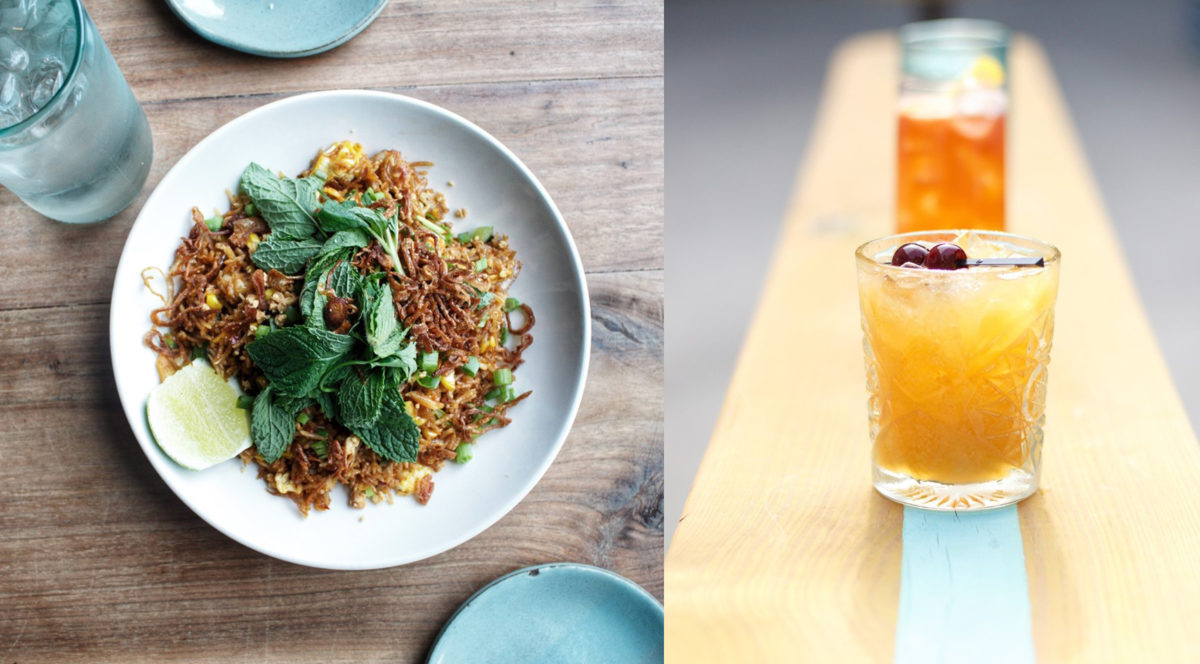 The Interiors
According to their website, The Optimist is housed in an old ham-aging house. Aside from the open space and industrial metalwork hanging overhead, the remnants of the spaces original purpose have been erased. The mine dining room is open and airy, and the restaurant also includes a dedicated area for their oyster bar and some outdoor seating. Furniture is unfussy and elegant, and branded touchpoints on several walls inject personally and make the space feel more casual. A wall of hotel keychains, for example, can be found on your way to the restroom, and a mural of an octopus greets you as you transition from the oyster bar area to the main dining room.
The bar and open kitchen flank both sides of the dining room, with the ceiling-high and backlit bar shelves demanding most of your attention. There is also a service station in the center of the room, punctuated with tall greenery, that the staff shuffles back and forth from with their collection of utensils and glassware.
Architect/Interior Designer / Smith Hanes Studio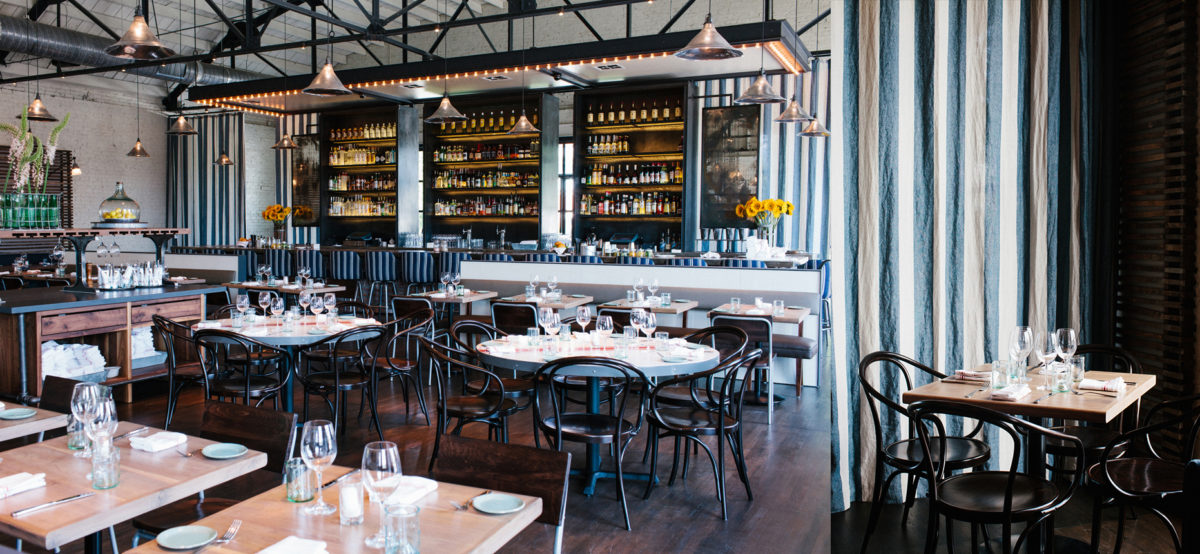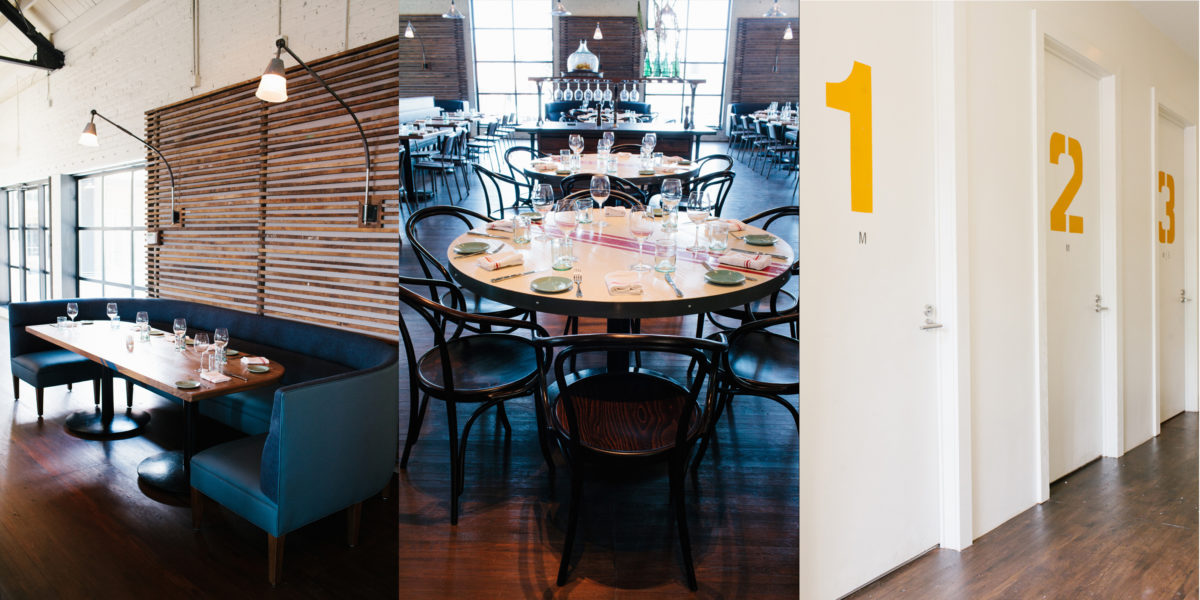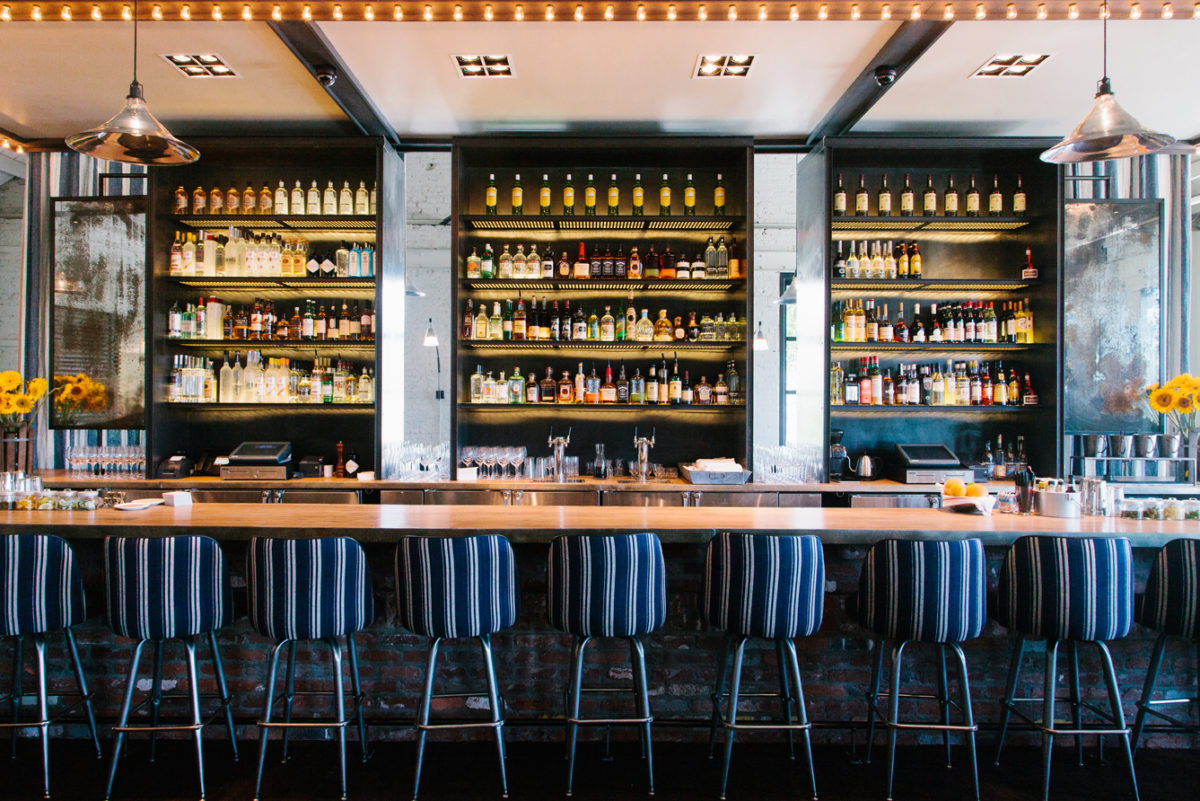 The Brand
The Optimist's identity, like other Ford Fry restaurants, rides this line of seeming low brow and casual and still upscale. The menus, website and what we call 'ephemera' (things like keychains and matchboxes) feature small illustrations with tons of personality and quirky copywriting. Their menus are designed in a format that is easy for the staff to edit in house, as they print their menus every day.
We ended up taking some of the brand home with us at the end of our night. While our waiter brought my husband his boxed leftovers, they also gifted us some branded keychains, postcards, and coasters. These ephemera pieces feature the same laidback vibe you find in-restaurant, with hand-scrawled typography and charming illustrations.
Identity / Alvin Diec